In Part 1 of this blog series, we introduced the hyperscale phenomenon, which led to the evolution of the Hyperscale Data Center (HDC). In Part 2, we define the HDC market size, including local growth constraints, and discuss various hyperscale accomplishments required of data center operations in the overall cloud computing and wide area networking environment.
HDC Market Size
In January 2019, Synergy Research Group (SRG) released data showing "the number of large data centers operated by hyperscale providers rose by 11% in 2018 to reach 430 by year end." In fact, per John Dinsdale, a Chief Analyst and Research Director at Synergy Research Group, "Hyperscale growth goes on unabated, with company revenues growing by an average 24% per year and their capex growing by over 40% – much of which is going into building and equipping data centers. In addition to the 430 current hyperscale data centers we have visibility of a further 132 that are at various stages of planning or building. There is no end in sight to the data center building boom." As can be seen in the accompanying pie chart, the United States still has 40% of the HDC market.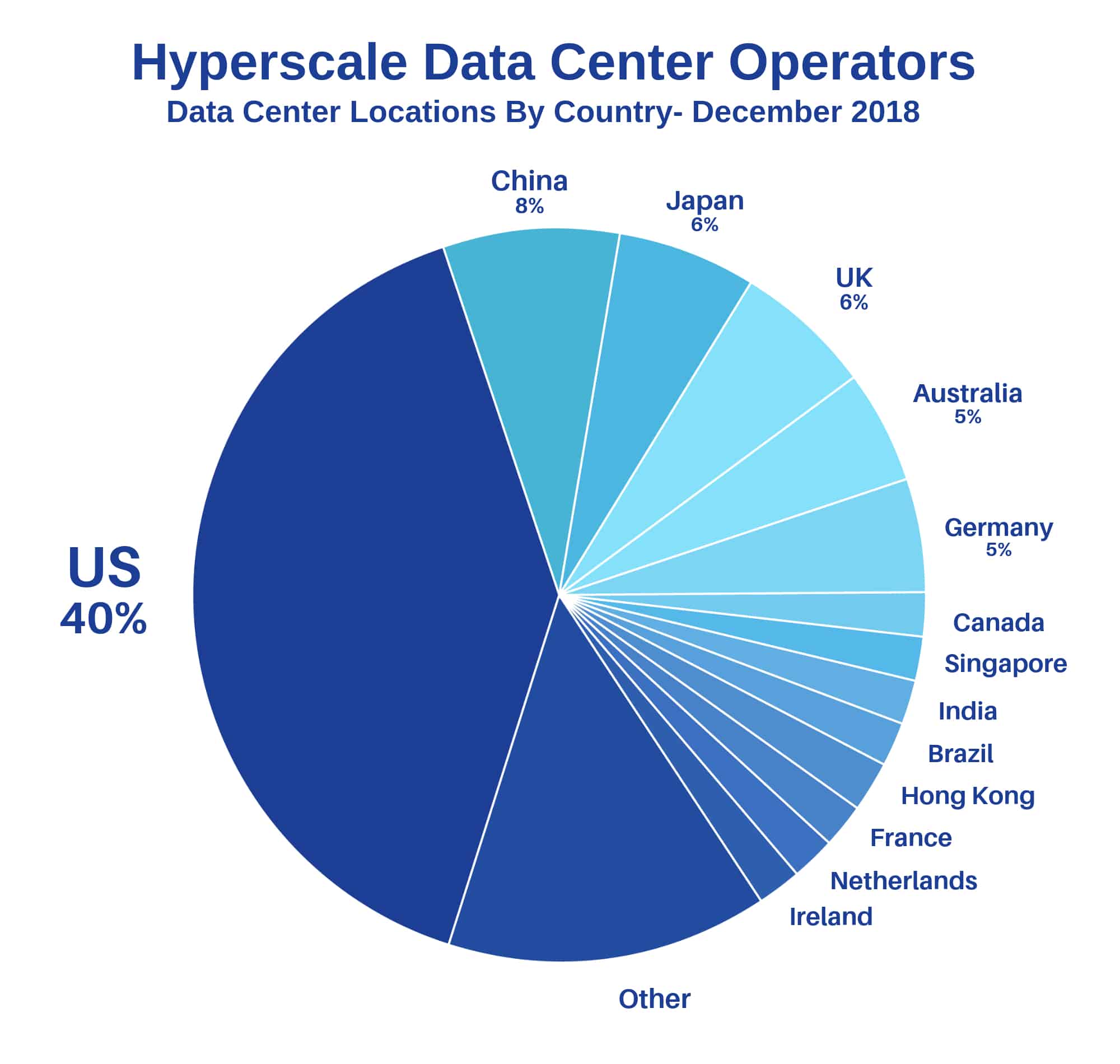 Reigns as Data Center King
More importantly, from our regional viewpoint, Data Center Frontier reported in April 2019:
"As of September 2018, Northern Virginia was home to 4.7 million square feet of commissioned data center space, representing 955 megawatts of commissioned power. Demand remains very strong reflected in a vacancy rate of only 4.4 percent as of 2018. In fact, the volume of data center capacity in the planning phase in the region has reached 1,097MW, or 1.1 gigawatts.
Data center operators in Northern Virginia leased 270 megawatts of capacity in 2018, more than doubling the previous record for annual absorption, according to data from Jones Lang LaSalle, which said the region accounted for 55 percent of all data center leasing nationally."
While the NoVA data is not limited to HDCs, this upcoming power and space squeeze has already begun to crowd the region's data center segment. DP Facilities sees the overcrowding in Ashburn as an opportunity to build capacity for hyperscale customers in other regions of the U.S. that will better serve their needs.
What Does an HDC Need to Accomplish?
Two of the most critical factors impacting a hyperscale data center relate to physical space and an abundant power supply — both of which need to contribute to scaling data center operations in "hyper" fashion. Specifically, as ZDNet pointed out in its April 2019 article, "How hyperscale data centers are reshaping all of IT," an HDC needs to accomplish the following four objectives:
Maximize cooling efficiency. Powering climate control systems is typically the largest contribution to OPEX in data centers worldwide, so maximizing cooling efficiency is of paramount concern.
Allocate electrical power in discrete packages. Multi-tenant data centers need to allocate power in "blocks" of fractional megawatts.
Ensure electricity availability. Modern workload management systems enable the replication of workloads across servers, making workloads redundant instead of power, thus reducing electricity costs.
Balance workloads across servers. How a data center manages its workloads and processor utilization software determines how virtual machines are utilized and how temperature control is optimized.
The ZDNet article explains in more detail how each of these critical requirements can be met for a data center to be sustainable as an HDC.
In Part 3 of this blog series, we will explain the differences between hyperscale and Hyper Converged Infrastructure (HCI); and between hyperscale and a really big cloud. We will also discuss some of the challenges that hyperscale presents to traditional enterprise data centers.