At the conclusion of Part 1 of this blog series, we introduced the concept of virtualization, which is the underlying technology that defines the SD-WAN (Software-Defined Wide Area Network). In this post, we will expand on how SD-WAN, along with its conforming data center infrastructure, has transformed the enterprise network.
What is SD-WAN?
SD-WAN is a wide area network that utilizes software components to control WAN operations. Network control software is used to virtualize networking hardware, just like hypervisors are deployed to virtualize data center operations.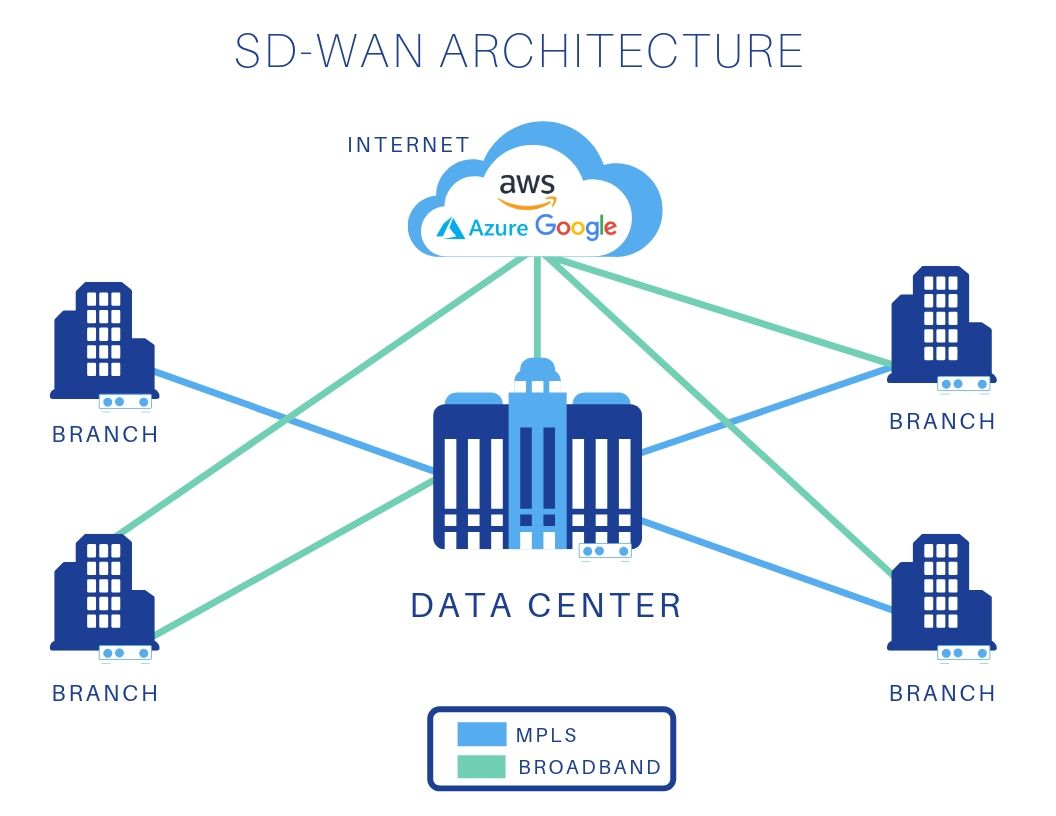 As depicted in the diagram, SD-WAN allows an enterprise to connect all of its networks—branch office networks and attendant data centers—within its system across a wide geographic area. Further, SD-WAN provides end-to-end encryption across the network and thus increases security. Nonetheless, while SD-WAN is credited with providing end-to-end reliability, scalability and security, it's the underlying hardware infrastructure – constituted in its disparate data centers – that guarantees it.
Debunking Popular SD-WAN Myths via Data Center Truths
Myth 1: All SD-WAN Providers Reduce Network Costs
One of the big myths associated with SD-WAN is that all SD-WAN providers reduce network costs. An enterprise might decide to scale down its expensive MPLS transport infrastructure and use it only for mission-critical applications while moving the rest of its non-critical traffic to the cloud. In making such decisions, i.e., to move some or all of its traffic to a lower-cost SD-WAN incorporating cloud services, the enterprise will need to do a cost/benefit analysis as to how these lower costs impact its overall operations and top-line revenues. While an SD-WAN implemented using low-cost data centers offering rudimentary cloud services might reduce overall network costs, it could adversely impact an enterprise's operating efficiency and revenue growth.
Myth 2: All SD-WAN Solutions Enable Global Enterprise Expansion and Cloud Migration
Another big myth that pervades the SD-WAN space is that all SD-WAN solutions enable global enterprise expansion and cloud migration. Nothing can be further from the truth. A global SD-WAN solution must offer reliable, secure and scalable connectivity, including dedicated private connections. It should be a single platform solution that necessarily integrates end-to-end embedded WAN optimization, application acceleration, and multi-layered security for its cloud and on-premise customers. Only then will this SD-WAN solution empower a global enterprise customer to connect its branch offices, optimize its application performance, and scale connectivity to its users worldwide. Again, it's the comprehensive capabilities of the underlying data center infrastructure that makes such a global SD-WAN solution possible.
SD-WAN is Only as Scalable and Cost-Efficient as its Underlying Data Center Infrastructure
While SD-WAN is helping streamline the business enterprise, it's pretty apparent that inbuilt data center functionality is what impacts key factors like network costs, cloud migration and global enterprise expansion. In Part 3 of this series, we will talk about cloud on-ramps, which are private, direct connections to the cloud from within a data center. As more and more enterprises migrate to the cloud, these on-ramps are vital to the "go, no-go" decision that an enterprise will make when selecting a provider.